Cup of Té
Regular price
Sale price
$15.00 USD
Unit price
per
Sale
Sold out
The peach tea your taste buds have been craving! One whiff of 'Peach Please' will have you running to your kettle to steep a cup. This organic white tea blend delivers all of the peach flavors you could ever want while infused with organic marigolds that round out to a perfect sip every time! This juicy tea is delicious and a treat whether you have it hot or iced. Who wouldn't want this versatile blend? 
Ingredients: Organic White Tea, Organic Marigolds, Natural Flavor
Medium Caffeine
(Approx 40 cups of tea per 100g)
Certified Organic & Natural
Brewing Temperature: 185°F/90°C
Brewing Time: 1-3 minutes
*manufactured in a facility that processes tree nuts
Share
View full details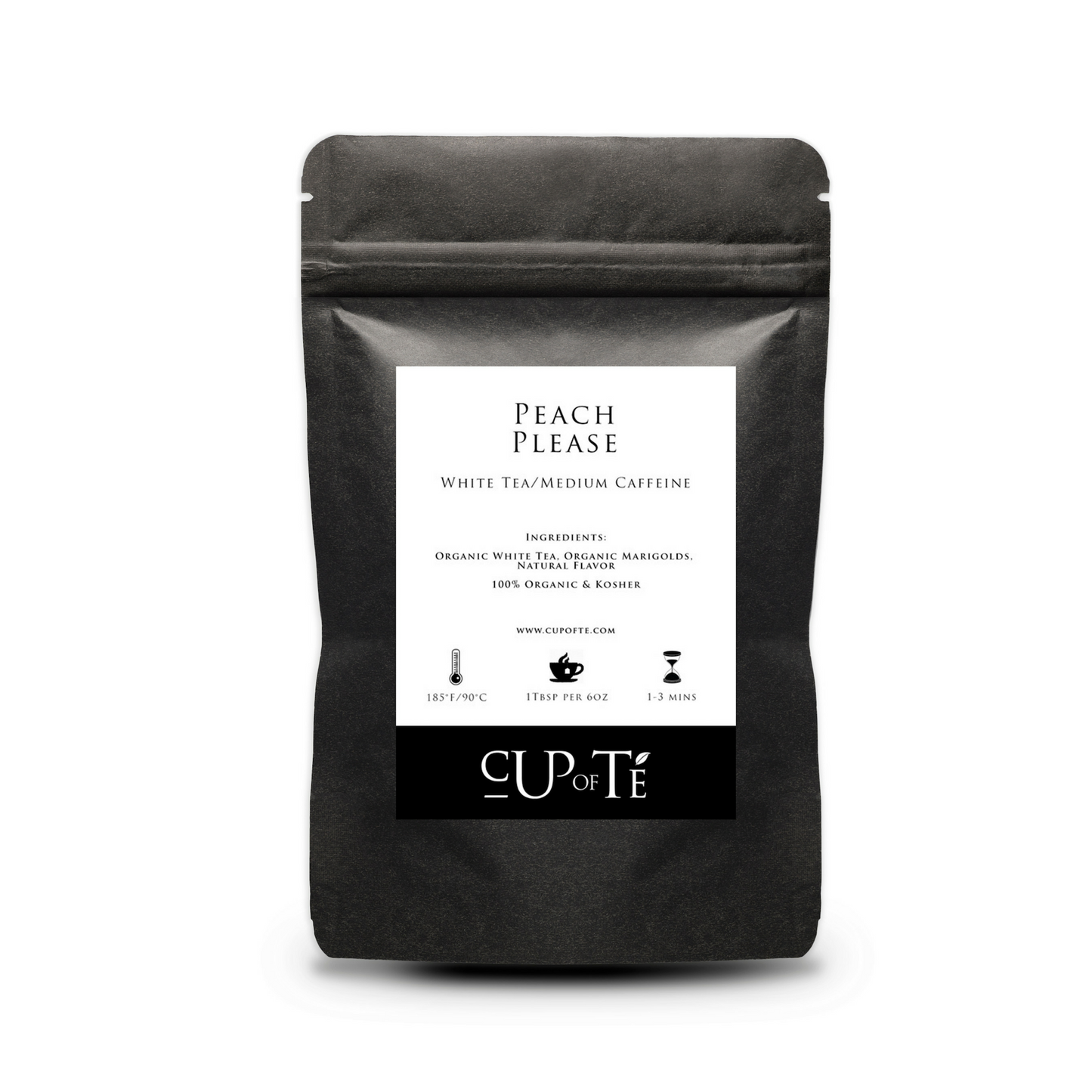 Awful tea
Truly this tea was awful. I love peach tea and expected yours to be the best ever. What a disappointment. Does it even have peach in it?
Absolutely adored this one!
I like this tea a lot!! Very pleasant aroma and taste. It was specially tasty for me when I added some honey and lemon to it. Overall, very delightful to drink.
Nice Light Peach flavored tea!
This is a light peach tea flavor and if you lift the lighter peach flavor, it is perfect. It is good but I personally prefer a more robust peach flavor like Teavana Precious White peach which I compare every White peach to. I purchased 4 teas and all are very good!
Tastes as great as it smells!
Non-artificial taste of fresh peach and smooth white tea. Wonderful hot or cold.
So delightful and full of juicy peach flavour!
I am obsessed with the peach tea from starbucks, so I was glad to find this here for much better value! It tastes lovely hot or iced, and is a great palate cleanser!